Christ for Sierra Leone

Taking the Transforming Power of Christ to the People of Sierra Leone
Pastor Scott & Robin Wilson
Follow their Journey
Pastor Scott & wife Robin left Iowa and arrived in Bo, Sierra Leone in late July 2015 to serve as missionaries in Sierra Leone, West Africa. The Wilson's are involved with church planting and encouraging the existing small village churches surrounding the area of Bo.
Pastor Scott teaches and trains the church pastors who have many questions and who have a hunger for the Gospel. Together, Bible studies are lead for the many searching community residents. Men, women and children travel miles to hear the Good News of Jesus Christ.
The Wilsons are excited to follow God's will for their lives and to share with the people of Sierra Leone. Pray the hearts of the people will be open and they will know Christ and live in His love and power.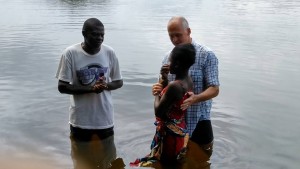 At a service in Karlau, a young man asked to be baptized, 15 others asked to join him. Afterward, Pastor Scott told them they were no longer a group just gathering…They are now a church! Praise the Lord! Pray for the new, young church in Karlau.
Scott graduated from the Dallas Theological Seminary and served as Pastor at Clear Lake Clear Lake Christian Church from 2007 – 2015. Robin was an office manager within a dental practice before becoming a full-time pastor's wife and Biblical counselor. Together, we believe God will open Sierra Leone to the Gospel.

We invite you to prayerfully consider become our partners in this exciting ministry—through prayer, financial support, communication, and opportunities to join our team. We look forward to hearing from you, seeing you, and sharing life's experiences of God's goodness and power.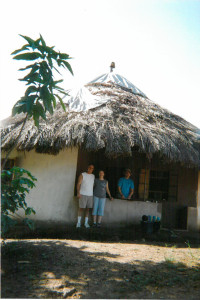 Sierra Leone Quick Facts
Sierra Leone is a mix of religions:
70% Muslim
28% Christian
2% Animist, Hindu, other
Most Christian Villages are in the cities and nearby villages. There is little exposure to the Gospel in rural areas.
Thousands have never heard the Gospel…
YET, God's promise is true: Revelation 5:9 – "…from every tribe and language and people and nation."